The training is customer oriented with a practical and implementation focus.
Training provided to garden retailers in industry or group workshops, or for individual garden centres in-house. The in-house training is always much more effective because all or most of the staff can be included; the training is focused to the individual garden centres circumstances; and the owner is involved and fully committed.
Horticulture & Product Knowledge
Presented in a manner that is easily understood, practical, and in language and terms that can be used to pass information on to customers. It covers soils, fertilisers, pest control, watering, tools, aids, major plant groups, and design principles.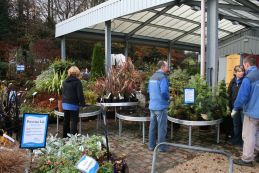 Customer Care
Much more than greeting and smile training, it includes establishing and embedding a customer care culture. It is critical that the owner is involved because without the owner's commitment to good customer care, it will never happen.
Here are some of the secrets to building a good customer care culture in your organisation: Creating a Culture of Customer Care
Customer service is also much more than the interaction of serving a customer. Focus groups suggest customer satisfaction can come from areas least expected: Getting Customer Service Right