Ensuring Best Practice Efficiency Every Day
Some garden centre owners and managers continue to work dangerously with a 'seat-of-the-pants' management style. They deal with things as they come and keep important back office matters in their head.
A common weakness in garden centres is the back office. Systems and procedures are often kept in the memory stick known as the human head.
Does this sound like you? As an owner and manager, you focus on working in your business rather than establishing written systems, protocols and procedures that will make life easier for you and improve time management for you and your staff.

If the aim is to grow your business, or even just stay in business it becomes absolutely necessary to have structured, written and delegated systems and procedures.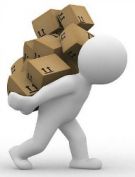 If you think these don't matter there will come a point when you become over-whelmed; major mistakes frequently occur and thinking of everything that needs to be done every day adds personal stress.You will always be chasing your tail - maybe you are already.
 
Help is available through the Making it Happen mentoring programme. Mentors experienced in running a business and operating garden centres can assist you to implement systems to run your business. They know the proven methods and can provide a toolkit of templates to help you and your staff achieve efficiencies and consistent good practice every day in your garden centre.
Areas they will focus on include:
A business plan that has been communicated to, and understood by staff

Job descriptions and staff structure with delegated responsibilities

Time management – giving priority to the most important work

Weekly Promotion Plan – for in store signage, merchandising, advertising, e-marketing,

Merchandising Plan – for priority end caps and hot spots

Stock control and ordering system to maintain stock at planned levels

Pricing strategy and protocols

Recording system for sales, purchases, and expenses for KPI analysis

Weekly staff meeting to keep everyone informed
Whilst all this seems daunting, the Making it Happen programme makes it easy and is tailored to the needs of each garden centre.
Efficiencies created will add significantly to bottom line profit, make it easy to train new staff and assist staff rotation and cover for absences.
Most importantly they will enable you to take weeks off at a time, knowing that the garden centre will continue to operate smoothly, efficiently and profitably.
With written systems and protocols in place, all staff become aware of the standard benchmark you require for your garden centre to operate smoothly to provide good service and a pleasant experience for your customers.
Here are a few details about the Making It Happen programme but please log in to read full information