A strong promotion campaign throughout the year in order to reap benefits in your main selling period is an excellent retail principle.
For many garden centres at the top of the world, 60% of their annual sales occur in a 6 week period. It's a massively busy planting window of opportunity for customers.  Garden Centres have to have everything perfect. Hourly stock checks and sales analysis to monitor progress and assist in making and implementing changes quickly as required.
A major part of the success of this six weeks is making sure customers quickly make a decision about where they purchase. Throughout the year regular events, workshops, demonstrations, concerts and entertainment can be held to help to ensure that when the super six weeks of action come around, customers know your garden centre is the best place to purchase from.
A strong promotion campaign throughout the year in order to reap the benefits in your main selling period is an effective retailing principle worth noting.  Fortunately for most of us the peak selling period for garden centres is much longer, but it is still the case that customers will choose where their gardening dollars are spent.
Convenience Value and Inspiration are the key drivers of customer activity. The large hardware retailers who have a major garden offer are perceived to be strong in the areas of Convenience and Value. They are not strong in the area of Inspiration.
Garden Centres certainly need to market on the strengths of Convenience and a strong perception of Value, but to excel in the area of inspiration is the real opportunity. It's the point of difference that shouldn't be ignored. Hosting events are an excellent way to inspire customers.
Don't feel there needs to be large numbers attending for an event to be successful. What is more important is the promotion of the event needs to leave the right impression in the customers mind.


Create an Event
The possibilities for events are almost endless. Garden Centre Birthday, Mother's Day, Father's Day, Christmas, Beginning of Spring, Beginning of Autumn, Harvest Festival, Launch of a Sale and New Season Releases are all opportunities for events in the garden centre.
There are also many normal projects that customers would expect to happen in the garden centre that can become events. When it is time to plant bulbs or prune the roses in the garden centre garden, turn this into a bulb planting and 'Rose Pruning Workshop'. A 'Garden Planting Workshop' can involve your customers in the creation of the garden centre's display gardens.

Edibles continue to be the fastest sales growth category in garden centres. 'How to Grow Your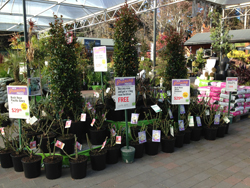 Own Superfoods' is a great event and can be repeated seasonally. 'Creating a Herb Bowl', 'Super Tomatoes in Pots', 'Potatoes in Containers', 'Tasty Strawberries in Hanging Baskets' have all proven to be popular and inspirational events in garden centres.


Event Promotion
Strong promotion of any events in the garden centre is an opportunity to show customers that this garden centre is the place where 'IT ALL HAPPENS'.
E-marketing through e-newsletters to your data base, social media such as Facebook and SMS messaging are very effective ways to get the message out.
Strong in store promotion with great signage and banners is essential to reinforce the message. If customers come along to the event, that is great. If they chose not to, this is still seen as the place for 'Information and Inspiration'. Whether they come along to the event or not is not the point.

Personal invitations are a great way to convey to customers (particularly your best customers) that you really would like them join in. All promotion must be professional and in fitting with the image of the business. Have staff informed, involved and keen.
Some Keys for Success
Events should be entertaining. Information is great if it is presented in a fun and exciting way. This is not something that everyone can achieve so you may need to bring in others with the right skills and personality. Use staff, suppliers and local personalities as long as they are the right people.
Have your customers involved. Questions and interaction should be encouraged.
Promote Value. Do not be afraid to sell. Although hard sell methods should not used, customers are customers and customers buy. Offer deals, giveaways, present new products and seasonal must-haves.

The Power of Many
In the UK and Australia, garden centres have hosted events as part of the Garden Releaf Days to support charities. This is an example of one of several opportunities for garden centres to unite in support of a very worthwhile cause. They enable independent garden centres to share support  in the local community.
Events hosted by garden centres help to sell the experience of the garden centre visit but when the hosting of events is combined as a part of a national project, the strength of the Inspiration of the garden centre experience is highlighted and enthuses possibilities of what can be achieved when we work together.
- Hilton Blake, GRS Australia